The nationwide financial scene remains volatile and the State of CA budget is not much better. That's why local law enforcement have come out in favor of Proposition 6 on the November ballot. Both Inyo and Mono Sheriffs, police chiefs and district attorneys say it's important to assure future funding for law enforcement. Cleland Hoff talked to Mono Sheriff Rick Scholl.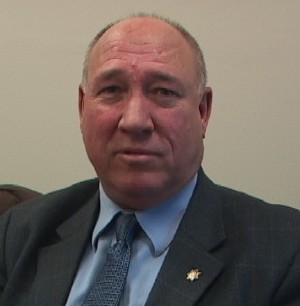 Sheriff Scholl said, "Proposition 6 is really important for all law enforcement in California. What it does is it guarantees funding for certain programs. As it is right now, we base a lot of our programs on grants. We have our boating enforcement grant, highway vehicle grant, Calmet grant, Rural Cops grants."
The Sheriff explained that some years the State funds these grants and some years it doesn't. He said Proposition 6 would take the suspense out of funding. It would guarantee a level of money for law enforcement programs.
Sheriff Scholl said this proposition is actually part of the Safe Neighborhoods Act. He said that Senator George Runner, who is the author of the bill, got this measure passed by the Legislature and placed on the ballot. Scholl said all California State Sheriffs and all law enforcement leaders in the Eastern Sierra support Prop. 6.