On a regular basis, top law enforcement officers of Inyo and Mono counties get together to strengthen team work.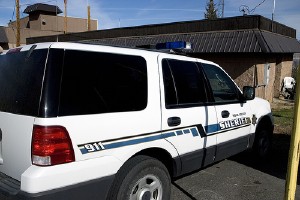 With mutual aid from around the state on the wane due to the economy and government budget problems, citizens of the Eastern Sierra can take heart that law enforcement does have plans for coordinated effort.
We talked with Mono Sheriff Rick Scholl on Wednesday. He commented that on a regular basis, officers hold what they call "Big Dog" meetings. Chiefs, Sheriffs and other officers from all of our law enforcement agencies. Sheriff Scholl added that the joint meeting was held in Bishop this week and that representatives of the Mountain Warefare Training Center at Pickel Meadows joined them.
In fact, the Marine Center is developing a police department of their own that will eventually include some 45 officers. Sheriff Scholl said that the regular meetings regionalize law enforcement efforts and strengthen tactical responses to problems.
In other law enforcement news, other officers traveled to Sacramento for a meeting with immigration officials who were sharing details on deportation procedures and other matters. ICE, or Immigration and Customs Enforcement led the discussion for police and district attorneys.