Just weeks ago it appeared that fish stocking in California would be shut down due to an environmental lawsuit. With a new agreement, signed by a judge Monday, it appears that the Eastern Sierra will dodge the brunt of the court order that limits hatchery programs.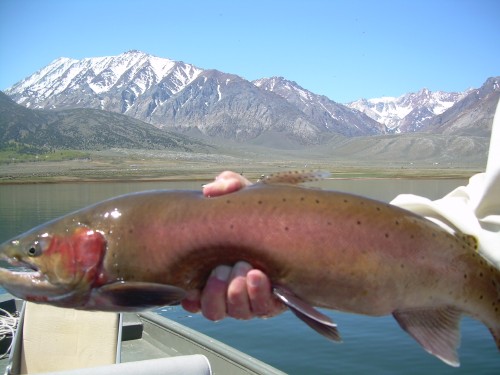 After a lawsuit was filed by a group of Stanford law students representing the Center for Biological Diversity in 2006, a judge ordered Fish and Game to run the entire hatchery program through the California Environmental Quality Act process. The final product, an Environmental Impact Report, was supposed to be finished by the end of this year. In recent weeks, Fish and Game officials stated that the EIR would not be done by the court ordered deadline.
During negotiations for another year to finish the EIR, Fish and Game faced the potential shut down of any and all fish hatcheries in the state. A temporary agreement has now been reached.
Noah Greenwald with the Center for Biological Diversity says that interim measures limiting stocking are needed to help save Californias native fish and frogs from extinction. Greenwald also said, Fish and Game will still be able to stock hatchery fish, but mainly in places where they wont harm native species."
According to the interim agreement, if DFG has surveyed a body of water and found one of 25 specified native species, DFG cant stock non-native species. The 25 native species in question range from the much maligned mountain yellow frog to the golden trout and steelhead. If the lake or river has not been surveyed, and the Department doesnt know if there are native species in the water, they cant plant.
Stocking native fish species can continue under this interim agreement. There are exceptions to the temporary rules for man made reservoirs over 1000 acres in size or smaller reservoirs that dont connect to areas where there are native species.
Fish and Game staff plans to publish a list of waters that will be affected by this agreement next week. In the meantime, we checked in with DFG Hatchery Supervisor Gary Williams to see how this new agreement will affect the Eastern Sierra.
Just weeks ago, hatcheries faced a possible statewide shutdown, now Williams says that waters in the Eastern Sierra, like Crowley, North Lake, South Lake, Sabrina, the upper and the lower Owens River, will all be stocked as planned next year. Williams explained that its possible a half dozen or so lakes in the back country that are still stocked by air will be shut down by this temporary order, but for the most part everything is back on.