– From Inyo County District Attorney
Bishop Area Resident Steven Bencoma Convicted on Felony Criminal Threats Charge
On May 28, following a three day jury trial held in the Superior Court of California, County of Inyo, Bishop area resident Steven Bencoma was convicted of a felony charge of making criminal threats.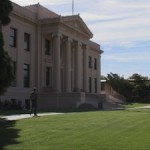 After the jury verdict, Assigned Superior Court Judge Christopher Yeager made "true findings" that Mr. Bencoma had previously served a term in prison, and that he had previously suffered a prior "strike" conviction.  The jury deliberated for approximately one hour before returning its verdict.
The case is now set for sentencing in Independence on June 16, 2015.  Bencoma is facing up to seven years in state prison.
The case was prosecuted by Assistant District Attorney Dee Shepherd following an investigation by the Inyo County Sheriff's Department.