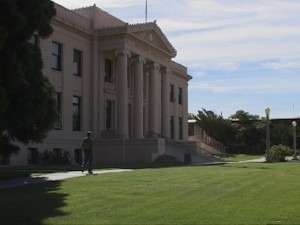 More than 15 years ago, citizens of Inyo County tried to tell their officials that they should not let the Los Angeles Department of Water and Power dump town water systems back on the people. The Supervisors signed a Long Term Water Agreement that did let DWP off the hook. Inyo County government still struggles with how to run the water systems of Lone Pine, Independence and Laws.
Back in March, Inyo County issued a Request for Proposals to either operate by contract or lease the water systems from the County. Officials have made no decisions. Interim Public Works Director Doug Wilson said that there are some "internal staff issues" that have delayed the water system status. He said there has not been enough staff available to process the RFPs.
When asked how leasing or contracting out the systems would affect water rates for citizens in the three communities, Wilson said he would not talk about it until he holds a workshop with the Inyo Supervisors, possibly this month. Wilson said the RFP had "flexibility" in either contracting or leasing the systems. He did say that Inyo's goal is to "diminish the County's role in the operation of the systems."
Wilson also said that the issue of rates is not in the RFP. He did say "At some point we will have to look at the rates. The issue is out there." He said there are other issues in regard to the cost of running the systems like the condition the systems are in and improvements that have to be made. Wilson said all of that will require a second workshop with the Board.
At the time the County agreed to take over the systems from DWP, some officials and citizens believed that the systems were not brought up to acceptable standards by LA. Others have said there are scant records about the systems.
To citizen fears of much higher water rates, Supervisor Marty Fortney said he did not know about that and needs more information. Meanwhile, Owenyo Services continues to operate the systems for Inyo County on an extended agreement.