By Deb Murphy
Los Angeles Department of Water and Power seems to have added "landfills" to its charter, at least in Inyo County.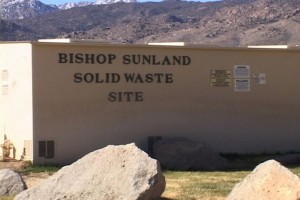 The County has been trying to revise its permits for landfills in Bishop, Lone Pine and Independence increasing tonnage limits and syncing the permit to reality in terms of footprint, hours and days of operation—since 2012. All three are LADWP leases.
Assistant County Administrative Officer Rick Benson made his case during a workshop at Tuesday's Board of Supervisors' meeting. The landfills in Independence and Lone Pine have daily tonnage limits of 10 and 22 tons, respectively. Benson said the limits were not realistic, noting that two haulers could send Indy over its limit. The easiest fix is to fix the permit. The only other option is to "operate within the permit," Benson said, "and close the landfill when the limit is reached and/or send construction and demolition loads to Bishop."
Bishop has been violation-free since summer of 2014. Benson noted that violations prior to that time resulted from loads from a LADWP project.
So, what's the issue? LADWP is one of many entities involved in the permit review process and has indicated "it is disinclined to approve the permit," Benson said, until the County develops a plan to reduce illegal dumping and deals with litter. In the meantime, the County simply has to stop violating its permit.
Reaction from the Supervisors started with "this could get ugly,"  "let's just put the trash on a barge and send it down the aqueduct" and ended with Chair Jeff Griffiths' statement that LADWP's actions were "intentionally disrespectful to the people of Inyo County and their needs." During the public comment period, it was also suggested that the County pass an ordinance that material from major projects, like the Owens Lake, be hauled out of Inyo.
Benson admitted there is a litter issue at area landfills, as there is at any landfill where the wind blows. "We're working on it," he said. "We can require that all loads coming in have to be covered." The Sheriff's Department has indicated it will send additional crews to help clean up loose trash. The biggest culprits, Benson said, are plastic grocery bags.
A reoccurring hole in the Independence fence has also been the source of warnings from the enforcement agency, Inyo's Environmental Health Department. Cameras have been installed to catch the recurring hole-maker.
LADWP blames illegal dumping on the County's decision to increase fees and limit hours, both fiscal decisions. However, Benson said there was no increase in illegal dumping following those changes.
Litter and illegal dumping, however, are not any part of the revised permit—a little like keeping some of the water saved on the Lower Owens River Project for Inyo County uses is not any part of the Long Term Water Agreement.
According to Benson, there seems to be at least one LADWP staff member in the Los Angeles office who understands the issue. From there, however, the permit simply falls down a rabbit hole.
County staff will have a meeting with LADWP this Friday to see if the issue can be resolved and the permit allowed to wend its way through a maze of additional approvals.
The revised permit for the Bishop landfill will correct a 20-year old mapping area. The discrepancy can be measured in 10's of feet, Benson said.
That permit went to LADWP in October 2012 and came back with an approval and comments 13 months later. From there it went to the Lahontan Regional Water Quality Control Board for review and comments.
In June of last year, the permit, reflecting Lahontan's changes, went back to LADWP along with the revised permits for Independence and Lone Pine.
In December 2015, LADWP indicated it was still reviewing the documents but was "disinclined" to approve them. In the meantime, Inyo "needs to stop violating" the current permit, deal with litter and develop an illegal dumping plan, said Benson.
Cal Recycle and the County's Environmental Health Department, the lead enforcement agency, are also included in the approval process. Revising landfill permits, while requiring a lot of work, is a fairly common occurrence, Benson said. Having a water and power utility dictate county policy on landfills is not a common occurrence.
One temporary solution posed by Chief Administrative Officer Kevin Carunchio was to operate the Indy and Lone Pine landfills for a couple of hours just for haulers on days they would normally be closed. He also suggested bringing the permit issue before the March 31 Standing Committee meeting as an information item.
Bishop City Council
The Bishop City Council went through the first reading of a vaping ordinance, approved raising rents at the City-owned Sunrise Mobile Home Park and got a primer on hospital finances and changes in models of care from Northern Inyo Hospital's Chief Executive Officer Kevin Flanigan at Monday evening's meeting.
Restrictions on vaping and vaping establishments were hot topics last fall, resulting in ordinance revisions that lumped vaping in with ordinances banning smoking tobacco in city parks and facilities. Vaping lounges, by any name, cannot be located within 1,000 feet of a school, are restricted to those over 18 years-of-age and subject to ventilation and lighting requirements. The second reading of the ordinance will be at the Council's April 11 meeting.

The 41 residents of the Sunrise Mobile Home Park will be paying an additional $25 a month in space rent starting in July. The City-owned park was subsidized by state funding until 2012. While the park was intended to be self-sustaining, it hasn't been for a while according to City Administrative Officer Jim Tatum. The increase from $225 to $250 a month is still well below other park rates according to Tatum. New tenants will be paying $300 a month. The increase was not devastating, according to resident input to both Tatum and Mayor Laura Smith.

NIH CEO Flanigan's quarterly report to the Council indicated that while the first six months of the 2015-16 fiscal year shows a $129,000 net loss, the statistics on patient care are right in line with the intent of the Affordable Care Act, focusing on keeping people healthier and out of the hospital. "We're seeing more patients, but they are spending less time in the hospital," he said. "Which means our out-patient care is working." The net loss is a function of cash flow with lagging Intergovernmental Transfers. The hospital will also re-issue its bonds at a savings of 20 percent, to insure long-term financial stability. Hospital staff has prioritized expenditures and brought more functions in-house to help toward a balanced budget at the end of the fiscal year. "We're investing in a long-term care model," Flanigan said, "but still being paid by the current care model."