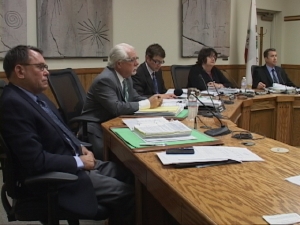 Last month, the Inyo Supervisors refused to go along with the Los Angeles Department of Water and Power's request to reduce irrigation to lessees and mitigation projects. They did go along with some other water reductions DWP wanted but with conditions.
At last months' Inyo-LA Standing Committee meeting, Inyo officials said no to LA's irrigation reduction requests. LADWP then withdrew their request, but they sent another letter asking to reduce the water supply to the McNally ponds mitigation project and to the Van Norman field mitigation project in Lone Pine. DWP said it's a dry year, and under the Water Agreement they can ask for reductions.
According to Inyo Water Director Bob Harrington, his Department recommended and the Supervisors agreed that it was okay to temporarily reduce water to the McNally project if DWP provided water to a pasture area between the Bishop Creek canal and the Owens River.
The Board also said okay to the reduction of water in Lone Pine if DWP provided additional surface water to a nearby project. The Board also asked for additional water for the High School Farm project next year. Surprisingly, LA agreed.
In other Inyo-DWP issues, LA did not honor Inyo's request for a reduced groundwater pumping plan this year. Los Angeles will reportedly take somewhere around 70,000 acre feet this year.
In another surprising turn of events, LA agreed to release some additional water down the Alabama Gates to irrigate the burn area from the fire east of Lone Pine if the parties who sued LA to get water in the river agreed to let LADWP pump the water back into the aqueduct.