Water and land talks scheduled for Thursday between the high and the low, you might say.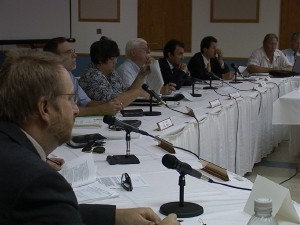 Officials of Inyo County and Los Angeles DWP will sit down in what they call the Standing Committee, a group generally considered ineffectual but necessary.
The Committee can decide matters of dispute, although both sides each have one vote, so deadlock can happen. Thursday, their agenda includes the controversy of Klondike Lake and the closure to motorized recreation.
Citizens continue to push for more access. DWP has fears about quagga mussel invasion and the cost to inspect boats.
The top officials will also talk about the Lower Owens River project, the seasonal habitat flow, work plan and monitoring site.
Officials will also get around to discussion on the release of 75 city-owned acres around Owens Valley towns. That was a promise in the 1997 Long-Term Agreement and so far the release has not happened.
DWP General Manager David Nahai vowed to hold another auction and offer good prices to get the land moving into local use.
The meeting of the Inyo-LA Standing Committee was scheduled for 1:30pm at the Tri-County Fair Grounds in Bishop.