With a great deal of skepticism about state government and questions to their local judges, people in Inyo County had begun again to press for answers about where a new, state-funded court building would go up. Just as public unrest grew, the Inyo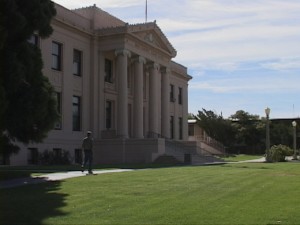 Superior Court issued a press release that lists public meetings in August.
The press release, issued simply under the name of Inyo Superior Court, says, "The Superior Court of Inyo County announces an informal public process with the purpose of making the best informed recommendation to the state Administrative Office of the Courts regarding where to build the new bond-funded courthouse for Inyo County." The release goes on to say that no recommendation has been made to the AOC, "nor will be made, before several county-wide informal public forums occur in August."
The forums will discuss the "implications, benefits, and problems that could occur with siting the new courthouse in either Independence or Bishop."
An earlier meeting in Independence had revealed some 200 people, many of whom expressed solid opposition to a Bishop court location. The crowd pressed Judges Brian Lamb and Dean Stout to reconsider what appeared to be their decision to chose Bishop.
The first forum will take place in Independence on August 17th. Bishop, August 18th. Big Pine, August 19th. Lone Pine, August 23rd. All meetings start at 7pm.
The court press release says that the Superior Court intends to maintain court services in both Independence and Bishop regardless of the recommendation for the new courthouse's location. The state makes the final decision.