Press release
Children and community partners joined Inyo County Department of Health and Human Services (HHS) and the Inyo County Superintendent of Schools (ICSOS) for the Children's Memorial Day Flag Raising Ceremony held on April 27th at the Superintendent of Schools Office.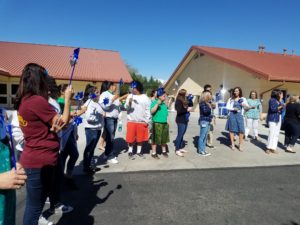 Children's Memorial Day concludes the April's Child Abuse Prevention Awareness Month Activities by honoring children who have lost their lives as a result of child abuse and neglect.  
The ceremony was attended by representatives from the community, ICSOS, HHS, Court Appointed Special Advocates (CASA), Probation Department, Sheriff's Department and children from both the Jill Kinmont Booth School and the Preschool.
The ceremony was opened by Marilyn Mann, HHS Director and comments were made by Jeff Griffiths, District 2 Supervisor, who, as a former foster parent and longtime advocate for children spoke to the importance of the prevention and intervention work that is done by community agencies to support children in the community.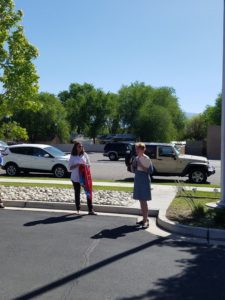 Mr. Griffiths was followed by Judge Dean Stout, Presiding Judge of the Inyo County Superior Court. Judge Stout, who started his career on the bench overseeing dependency cases, has been a long-time advocate of children in our community.
Judge Stout spoke about not only the children who experience abuse and neglect that come through the court system, but also about those that are unknown to the system and the importance for community awareness about violence and the impact on children.
Judge Stout, Jeff Griffiths and Dan Totheroh, 1st District Supervisor and current Chair of the Board of Supervisors, then raised the Children's Memorial Day Flag.  This was followed by a moment of silence led by Dr. Lisa Fontana, Superintendent of Schools. Dr. Fontana then adjourned the ceremony to the George Lozito Conference Room for refreshments.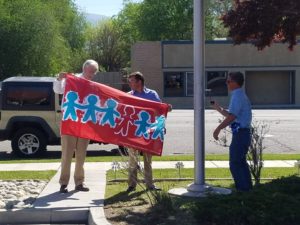 To further honor those children who have lost their lives, communities can come together to support efforts to prevent child abuse and neglect. First, understanding the scope of the issue is critical.  Child Welfare agencies across the nation received an estimated 4 million reports of child abuse and neglect involving approximately 7.2 million children during FFY 2015, with approximately 58 % of the referrals found appropriate for investigation.

Of those investigated, approximately 18% were found to be victims of abuse and neglect. During this same period, an estimated 1,670 of our nation's children lost their lives as a result of violence and neglect inflicted often times by the very people entrusted with their health and safety.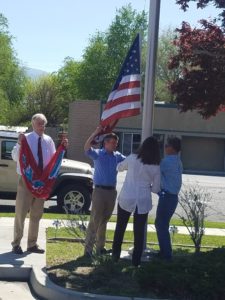 Locally, our child welfare agency receives an average of 34 reports of suspected child abuse and neglect every month; investigating approximately half of those reports.  While some reports are duplicative or are evaluated as not appropriate for investigation, those that are investigated have a substantiation rate of approximately 10-15 %.
As with the national statistics, Inyo's children under the age of 5 are at greatest risk of experiencing serious harm. While Inyo County's statistics do not reflect a death of a child, it is critical that the community remain vigilant in its efforts to ensure the safety and well-being of our children.
There are multiple opportunities available to help support children. Consider becoming a mentor; become a CASA volunteer, advocating on behalf of a foster child; open your home and become a Resource Family, providing a home for a foster child; teach parenting classes; volunteer at a school; or simply, extend a helping hand to a parent or child in need.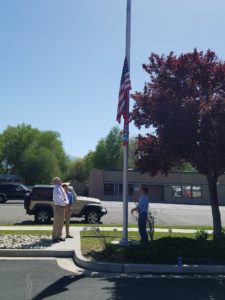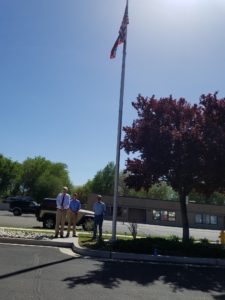 Finally, if you have reason to believe that a child you know is experiencing abuse or neglect, make a report to either law enforcement or to the local child welfare agency.  Your voice can make the difference for one child.
For information about volunteer opportunities at HHS (mentoring or Resource Family), call (760) 872-1727 and ask for Darcia Blackdeer-Lent.  For information on CASA or other volunteer opportunities, call Wild Iris at (760) 873-6601.
To report suspected child abuse or neglect call Child Protective Services at (760) 872-1727.