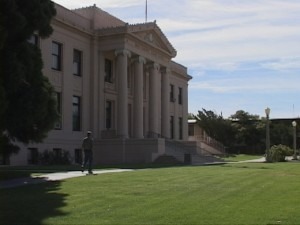 In September, attorney Michael Berger was granted a motion to be released as legal counsel for Dawndee Rossy in the case of embezzlement of $1.5 million in welfare funds which allegedly took place by her and her husband Ken Rossy. She now has a new attorney.
Mr. David Evans will now represent Ms. Rossy. The case is next on calendar November 19th for trial setting. Mr. Evans is in private practice in Pasadena and will be paid by Inyo County to represent Ms. Rossy. At last report, Mr. Rossy continues to be represented by Attorney Gerard Harvey. The previous trial date of October 6th was vacated.
The Rossys were originally arrested in April of 2013. At that time, they faced charges of grand theft by embezzlement of public funds, grand theft of personal property, misappropriation of public funds by a public officer, welfare fraud, conspiracy to commit grand theft, 31 counts of identity theft and other charges.
Dawndee Rossy had been terminated from her job in the Welfare Office in February of 2013. The Rossys had entered pleas of not guilty and have denied all allegations filed against them. In November of last year, District Attorney Tom Hardy had said the total charges against the couple numbered 213 felony counts.
More on the case is expected November 19th.