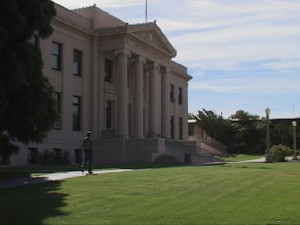 Over the last several years, members of the Inyo County Grand Jury say they have continued to receive complaints about how County Supervisors and Department heads treat employees. In some cases, the Jury's Final Report says, officials have talked to employees "in an inappropriate manner within hearing of other employees and the public." The Jury Report states that this issue "continues to create employee morale problems within the County, resulting in the loss of highly qualified employees to which the County has invested time, training and money."
The Jury Report says that there are inconsistencies from department to department regarding evaluation requirements, conflict resolution and grievance procedures. The Jury Report says these problems particularly relate to department heads who only answer to the Board of Supervisors.
The Jury found that some Inyo Supervisors and department heads do not follow proper procedures and recommendations made by the Labor Relations Administrator. The Jury recommended that the County continue with regular, meaningful training with supervisors and department heads in the appropriate methods of communication with employees. In general, the Jury recommends officials follow procedures and recommendations from conflict resolution. They also suggest that the Labor Relations Administrator be given the authority to ensure compliance.
The Jury also wants to see an independent Human Resources Department to handle personnel policy. They suggest expansion of the current Labor Relations Administrator.