The following is a press release from the Inyo National Forest
Bishop, CA – Crews have begun the hard work of converting words on paper from the 2009 Travel Management Decision into actual on-the-ground actions.  As you travel through theInyoNational Forestthis summer, you will likely see a diverse array of volunteers, partners, andForestcrews placing signs on newly designated routes, disguising and blocking unauthorized routes, and fixing problem sections of system routes to ensure that routes will be stable and can remain open for motorized use.  Other specialists are analyzing what additional future treatments may be needed to stabilize or naturalize unauthorized routes, or to convert these to non-motorized uses.  These more intensive restoration efforts require additional planning, and will include public involvement.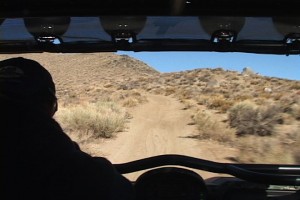 The Inyo National Forest Travel Management Decision signed by Forest Supervisor Jim Upchurch in August of 2009 made determinations about which roads and trails on theInyoNational Forestwould be designated for motorized uses.  Of 1,700 miles of previously undetermined routes, just over 1,000 miles were added to the National Forest Transportation System (NFTS), for a total of approximately 2,360 miles of designated NFTS roads and trails.  A Motor Vehicle Use Map (MVUM), the legally-binding depiction of designated roads and trails, was developed in early 2010.  Additionally, the decision required theForestto perform certain repairs (mitigations) on newly-designated routes within five years; in many cases, these mitigations will open routes for motorized traffic, which will then show on future versions of the MVUM.  The decision also provided for the placement of signs and small barriers and/or disguising to help reduce confusion about which routes are open for motorized use.  All routes remain open to non-motorized recreation, such as equestrian, biking or foot travel.
 Much of the work is funded through grants from California Off-Highway Motor Vehicle Recreation (OHMVR) trust fund, which are primarily financed from state gas taxes. Forestfunds for road and trail maintenance, as well as recreation and resource funding sources are also used in support of the Travel Management program.  State OHMVR funds were utilized in a joint effort with the California Trail Users Coalition (CTUC) to develop a high quality color recreational map of the north half of theForest's motorized trails and roads.  The CTUC recreational maps (which normally sell for $3.00) and the official MVUM maps are currently available free of charge at allInyoNFoffices and visitor centers.  The CTUC will release a map of the south half of theForestlater this year.
 The Forest Service is looking at creative ways to accomplish the vast amount of work on the ground, including using Student Conservation Association, Youth Conservation Corps, Friends of the Inyo stewardship crews, student interns, and various volunteer groups such as the Eastern Sierra Four Wheel Drive Club and others.  TheForestencourages individuals to contact one of these groups if you'd like to participate in their efforts.  If your group is interested in assisting with the Travel Management effort, or if you're curious about theForest's Adopt-A-Trail program, please contact your local Ranger District Office or Marty Hornick at the Forest Supervisor's Office (contact info below).
TheForestwill host public meetings pertaining to Travel Management implementation and related projects later this summer.   Stay tuned for more information on these meetings.
If you have any questions or observations about the Inyo National Forest Travel Management implementation, please contact Marty Hornick at 760-873-2461 or [email protected]