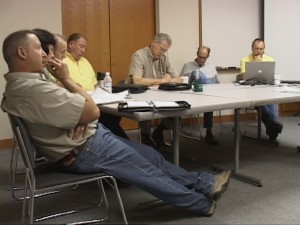 Another delay in the Inyo-Los Angeles Department of Water and Power groundwater pumping disagreement. The Inyo-LA Technical group met Monday to discuss the fact that Inyo has disputed LA's pumping plan by 8400 acre feet of water planned for export.
Inyo officials did explain, again, that they believe the huge runoff year should be used to allow depleted groundwater tables to recover. The Inyo Water Department has data to show areas of concern. Los Angeles officials had a lot of questions for Inyo and wanted to continue the meeting.
Inyo Water Director Bob Harrington said that Inyo requested that DWP continue to curtail pumping in the two disputed wellfields, Thibault-Sawmill and Taboose-Aberdeen, LADWP was unwilling to do that until Inyo's side said they were unwilling to continue the meeting and would go on to the next level of dispute, the Inyo-LA Standing Committee.
Then, DWP agreed to keep pumping down until the Technical Group agreed or disagreed with Inyo's pumping desires. With LA's favorite tactic of delay at work, the whole issue will be continued to a meeting on August 25, a Thursday morning at 10 am at DWP headquarters in Bishop.
Water Director Harrington explained that pumping in the Black Rock area will be only for the hatchery and pumping in Taboose-Aberdeen will only supply the Seely pond mitigation project.