A month ago, two Mammoth Police officers took part in a fight at Rusty's Bar in Bishop, along with several other people. Bishop Police conducted an investigation but the Inyo District Attorney said work on the case continues.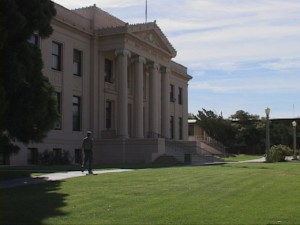 On May 21st, the Bishop Police log reflects two calls that reported a fight at Rusty's Bar. After word circulated that two Mammoth Police officers were involved, Bishop Police had stated they reported the incident to Mammoth Police officials.
A statement from MLPD admitted the involvement of the two officers in the fight inside and outside the bar. Bishop Police handled the criminal investigation and the Mono District Attorney was charged with an internal affairs investigation into the incident, which reportedly involved the same two officers who got into a fight in Las Vegas.
Inyo District Attorney Art Maillet said that further investigation of the incident is underway and that his office is "not ready for a decision to prosecute or not."
The two Mammoth officers remain on administrative leave pending resolution of the incident.