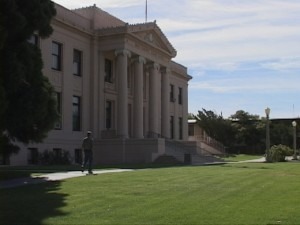 In Inyo Court, Marvin Titus of Bishop was sentenced to 30 years to life for numerous felony and misdemeanor counts of sex crimes involving children.
According to Inyo Superior Court, a jury found Titus guilty of four felonies and four misdemeanors including what is called an enhancement for crimes involving more than one victim.
The jury had returned guilty verdicts on three counts of committing lewd acts on a child by force and one count of lewd and lascivious acts on a child under the age of 14. The Jury also found Titus guilty of four misdemeanor crimes including two counts of child molesting and two counts of sexual battery.
Titus had remained in the Inyo County Jail during trial proceedings.
In other cases, the court sentenced Jose Thomas Figueroa on a no-contest plea of gross vehicular manslaughter while intoxicated. The District Attorney had said that Figueroa also admitted two prior offenses of driving under the influence.
According to an earlier DA's press release, Figueroa was driving a vehicle involved in a roll-over accident more than a year ago. His passenger, Thunder Medina, was injured and died from injuries in that wreck. The court sentenced Figueroa to 10 years in prison.
Harlan Dewey, Jr. was scheduled for sentencing in his no-contest plea to felony involuntary manslaughter. His sentencing was continued until February 6th.
This case involved what was described as an altercation Dewey had with Daniel Barlow in December of 2011. The DA said Barlow died as a result of that fight.