Board of Supervisors & County Administrator Decide to Amicably Part Ways
(News release)
INDEPENDENCE – The Inyo County Board of Supervisors announced today that the Board has decided to exercise the termination provisions of its contract with Kevin Carunchio to serve as the Inyo County Administrator, without cause and at will, and that he will be relieved of his duties, responsibilities and authority as Inyo County Administrator effective August 10, 2018.
The Board of Supervisors' decision was made with Kevin's complete understanding and support.
Previously, on June 19th, Kevin submitted his resignation to the Board and indicated his intent to retire at the end of October after more than 10-years as the Inyo County Administrator.
In announcing his retirement, Kevin indicated that he looked forward to completing a number of on-going tasks before his departure, including: publishing the Fiscal Year 2018-2019 CAO Recommended Budget; developing a succession plan for the leadership of the Inyo County Water Department; Board of Supervisors consideration of a lease agreement for the proposed Inyo County Consolidated Office Building; finalizing the contract for the County's fiber-to-the-premises initiative, the 21st Century Obsidian Project; assisting the Board in establishing Federal funding and legislative priorities with its new Federal advocacy consultant; and, working on a host of matters involving the Los Angeles Department of Water and Power.
Sensitive to issues and concerns that have surfaced surrounding Kevin's announcement, and recognizing that he has already made a lot of progress on his list of remaining projects, the Board and Kevin decided it was in the best interest of the County to accelerate his departure. "I, and every member of the Board of Supervisors appreciates all of Kevin's work on behalf of our County and our community for the past 13 years," said Chairman of the Board, and First District Supervisor Dan Totheroh.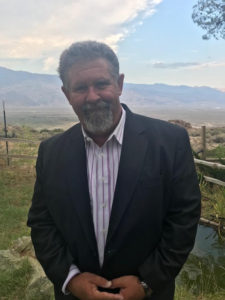 The Board of Supervisors has appointed Clint Quilter, Inyo County Public Works Director and the County Road Commissioner to serve the Acting County Administrator, while the Board continues the CAO recruitment process it initiated on July 10th. That process is expected to conclude in early 2019.
Clint has worked for the County for 5 years and, prior to moving to the Owens Valley, served as the Hollister City Manager for 10 years.
"We are fortunate to have someone of Clint's caliber on staff and willing to step into this critical role," said Totheroh. "Clint understands our organization and our
community, and he possesses as much institutional knowledge of the County as anyone."