– Press release
In April of 2011, years of hard work between Inyo County (County) and the Los Angeles Department of Water and Power (LADWP) came to fruition with County obtaining an easement in perpetuity for all airport related use at the Bishop Airport from the City of Los Angeles. The easement gave Inyo County property rights and permission to handle all improvements and upgrades at the airport. This easement, in turn, paved the way for the County to apply for Federal Aviation Administration (FAA) grant funding to implement the strategies laid out in the 2002 Bishop Airport Master Plan.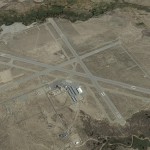 The Bishop Airport is a vital part of the community that receives daily flights, both public and private. Originally constructed in 1929, the airport currently has flights delivering express goods and mail, flights for emergency medical situations, firefighting flights, and private flights for pleasure, business travelers and airplane aficionados. Today, 10 years after the Board of Supervisors adoption of the Bishop Airport Master Plan, the Bishop Airport is in need of infrastructure improvements and, with the new lease in hand, the County has begun the process of seeking available FAA grant funding.
On July 9, 2014 Inyo County staff briefed the Northern Inyo Airport Advisory Committee (NIAAC) on recent developments regarding the Bishop Airport. Clint Quilter, Inyo County Public Works Director, announced that the County had received FAA grant funding to hire an expert airport consultant to complete an Airport Layout Plan (ALP) which will prioritize airport needs and recommend solutions. This Bishop ALP would then be submitted to the FAA to seek funding for proposed upgrades.
Inyo County has hired Wadell Engineering Corporation, Airport Planners & Engineers located in the San Francisco Bay Area. Wadell Engineering Corporation, founded in 1974, has completed over 450 successful aviation projects and has a 40-year relationship with the FAA. Wadell uses their experience and expertise to develop plans that meet the FAA requirements and standards necessary for federal funding. Bob Wadell, a registered civil engineer and certificated aircraft pilot with more than 40 years' experience as an airport planner and engineer, will lead the planning and design projects for Inyo County. At the July 9 NIAAC meeting, Wadell described the initial stages of ALP development, reviewed the 2002 Master Plan, described the draft ALP process and opportunities for public input, and outlined a time frame for the ALP to be completed and submitted to the FAA.
Key components of the ALP will be to update the Bishop Airport's inventory of facilities, to establish forecasts of demand and new facility requirements to meet FAA standards, to prepare a 20-year capital improvement program, and to provide an updated narrative report. The ALP will be completed by summer 2015. Ninety percent of the funding for the plan was provided by the FAA and 4.5% with a California State Aeronautics matching grant.
Wadell and Quilter noted several high-priority infrastructure needs at the Bishop Airport, using slides and photographs to illustrate their points. First and foremost was rehabilitating runway and taxiway pavements. Additional needs are upgrading all airport lighting and signing, replacing the existing Visual Approach Slope Indicators (VASI) with modern Precision Approach Path Indicators (PAPI), adding Runway End Identifier Lights (REIL) at four runway ends, installing security fencing, and restoring the full former 150-foot width for the two longer instrument runways. Less pressing needs include access roads and terminal area improvements.
In the next few months, Quilter explained to the NIAAC, Inyo County, with Wadell's help, will be developing and presenting the Bishop Airport Layout Plan in public forums and settings, seeking community participation and input from local leaders and residents. Any comments or concerns will help shape the ALP draft.
On July 15, at the Inyo County Board of Supervisors meeting, Quilter gave a summary of the Airport Layout Plan and NIAAC workshop, informing them this will be an iterative process. Formal presentations by Wadell Engineering and Inyo County are scheduled for August 25 at with Bishop City Council, August 26 Inyo County Board of Supervisors meeting, and an evening community presentation at Bishop City Hall on August 26.