Superintendent of Schools Terry McAteer and Assistant Superintendent Pamela Jones are pleased to announce that Noah Keathley from Owens Valley High School won first place in the high school division and Kennah Davis from Round Valley School won first place in the elementary/middle school division of the Inyo County Spelling Bee, sponsored by Altrusa.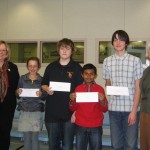 Thirty-five students from nine local elementary, middle and high schools participated in the 2013 countywide Spelling Bee on Thursday night, December 6th at Jill Kinmont Boothe School. Twenty-seven students made it to the final rounds. The winners of the competition were:
HIGH SCHOOL COMPETITION
1st Place Noah Keathley Owens Valley
2nd Place Lacie Jones Lone Pine
3rd Place Ginger Perez Bishop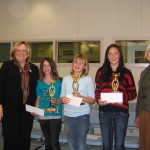 The winning word was: archetype. Other high school contestants included: Alyson Mills and Cianni Benson from Owens Valley, Justin Acevedo and Abby Southey from Lone Pine, Aaron Lamb from Bishop and Elizabeth Richards from Big Pine.
ELEMENTARY/MIDDLE SCHOOL COMPETITION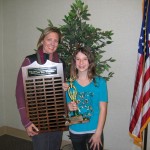 1st Place Kennah Davis Round Valley
2nd Place Kristen Lamb Home Street
3rd Place Aubrey Hart Lone Pine
The winning word was: leguminous. The other elementary/middle school contestants included Caden and Cora Lanphear from Big Pine; Daniel Hensley, Jessianne Joiner, Juliann Jones and Naiya Warren of Lone Pine; Max Anderson, Andrew Cardinale, Efren Luna, Laura Ptterson, Mark McAlister and Orion Nash of Owens Valley; Mahdi Ayman, Taryn Benson, Dylan Fitt, Sara Rosga, Jennifer Velazquez from Bishop schools; Rylee Arcularius, Jake Figerio, Hana Hogan, Jevan Morelock, and Danae Parker from Round Valley.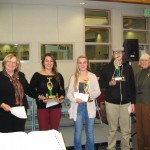 Thank you to coaches Cheri Fendon, Lena Lawson, Shelly Daugherty, Carmen London, Victoria Hamilton, Rory Winzenread, Gerrie Rodenburg, Harold McDonald, Jeff Putman, Lauren Zierer and Tim Steele who spent hours working with their students. Another thanks to the coach and parent volunteers for proctoring the Preliminary Written Competition.
The local Altrusa chapter sponsored the competition and Sara Sheehan was on hand to distribute awards to students. Robin Hastie and Pete Korngiebel judged the competition. Liz McAteer graciously accepted the position as the Pronouncer for this year's competition.
Pamela Jones was the Spell Master for the Preliminary Written Competition. A special thank you goes to Round Valley Parent Organization for donating $5 to the "last person standing" from each of the nine districts competing.