Inyo County's exhibit, entitled CAMP INYO, at the California State Fair received two coveted awards at the awards ceremony on July 14 at Cal Expo in Sacramento.
 The exhibit received the Best Marketing Presentation Award as well as again receiving a Gold Award.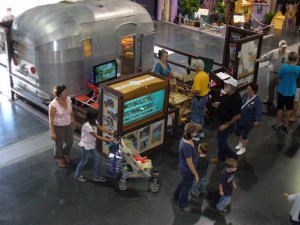 Best Marketing Presentation Award goes to the county that makes the best effort to sell the overall county, its original character, or unique commodity.  The commodity being presented was camping in Inyo County from below sea level to above 10,000 feet.  The centerpiece is a 1952 Airstream Travel Trailer in a camp site setting.  The Airstream brings people to the exhibit where they then see large color photos of many of the campgrounds from Tecopa to Horton Creek.
Several video presentations as well as photos and posters show things to see and do in Inyo County.  Lone Pine Gem and Mineral Society's display is receiving lots of attention.
The exhibit is funded by Inyo County Board of Supervisors and staffed by volunteers during all open fair hours.  The fair opened Thursday, July 14, and runs through Sunday, July 31.  First day attendance was 17,535.