Earlier this summer, the Grand Jury reported that there were problems with the way that Inyo County fired employees during their probationary period.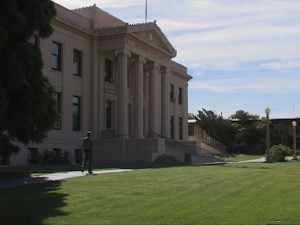 The Inyo Supervisors have now approved their response to the 2008-2009 Inyo County Grand Jury report. After the response was approved, the board also made a few minor changes to county government as recommended by the grand jury.
One of the issues raised by the grand jury was that Inyo County had fired newly hired employees during their six month probationary period without telling the employees that they werent performing. The jury reports that some of those who were fired during their probationary period stated that they had not received any negative criticism and some had actually received positive comments. They then experienced shock at their termination. The Grand Jury found that there were no performance evaluations in the personnel files of the employees who were fired.
The County agrees with the grand jury that at times staff did not follow the county's personnel policies. According to the written county response, county policies regarding probationary employees could benefit from refinement and clarification. As for the issue of not having any written employee evaluations in the personnel files, the county response is that the Inyo personnel policy calls for one or more formal or informal performance evaluations during the probationary period. An informal evaluation could be verbal and not put into writing and wouldnt be in the personnel file, according to the response.
As for not being told why they were being fired, this will likely not change. The county response is that these specific reasons for firing an employee are a part of a larger obligation, to protect the employees privacy and confidentiality and will be kept confidential due to legal as well as ethical, requirements.
Overall the grand jury recommended the creation of a Human Resources Department to enforce the county personnel policy and advocate for the fair treatment of county new hires. This one isnt going to happen either. The county response is that there already is a personnel director, which is one of the jobs handled by the county administrators office. The county also says that a stand alone personnel director would cost too much, and would have to be approved by voters.
The Grand Jury recommended that the county change the policy so that when department heads are evaluated by the board, the department heads, including the County Administrator are evaluated in part on their knowledge of personnel policies and practices.
Tthe Board did approve this change in the evaluation of Department Heads.