By Deb Murphy
In what could be described as one of the gutsiest local moves, at least in the past couple of years, Inyo County is in the process of claiming eminent domain on 267.89 acres of Los Angeles Department of Water and Power land in Bishop, Lone Pine and Independence. The parcels make up Inyo's landfill sites.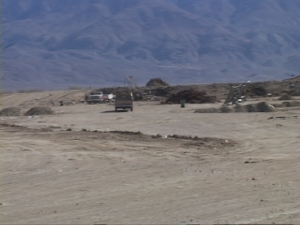 According to County Counsel Marshall Rudolph, the process began last March when the County sent the department notice of its intent, along with an invitation to send an appraiser to determine the value of the land with Inyo's own appraiser.
LADWP didn't take them up on that offer and the County proceeded coming up with a valuation of $522,000 for all three parcels. The pre-condemnation offer went out in May. The department declined the offer and will now conduct its own appraisal.
In a phone interview, Rudolph explained a government entity can condemn, or claim eminent domain, on land owned by another entity based on "a more necessary public use." "It looks like we have a good case for a stronger need," said Supervisor Jeff Griffiths. The County is mandated by law to deal with trash as a health and safety concern.
As for the next steps, Rudolph said the Board of Supervisors will adopt a resolution of necessity at a meeting, probably in mid-August. From there, it's to court or to a negotiation on price.
The landfill issue came to a head in January when the Board had little choice in signing off on a 400-percent increase in the Bishop landfill lease payment to LADWP. The County was in violation of weight allowances on its CalRecycle permit. LADWP wouldn't sign off on the new permit that would have increased those allowances without a signed lease. The previous lease, expired in 2009, was $4,900 a year. The new three-year lease would hold that price for two years, then go up to $22,637 a year.
Included in the 53 lease changes were a number of other scary requirements: the department would monitor water use and charge 57-cents a ton for dirt used for trash cover; the department could terminate the lease with 180-day notice; LADWP would keep track of new regulations and require a 14-day compliance period, far shorter than those imposed by the regulatory agencies and the County would have to comply with all City of Los Angeles ordinances, in addition to federal and state regs.
As bitter a pill as that was to gag down, the alternative was a $10,000 a day fine for weight allowance violations. "CalRecycle won't wait forever," Assistant Administrator Rich Benson told the Board. The increased lease cost would parcel out to $19 more a ton charged to commercial haulers on top of County fee increases to eat away at the deficit incurred in operating the landfill.
"It would have been a heck of a lot easier, if LA had acted like a good neighbor," Griffiths said in a phone interview Thursday. "They use the landfill too. But, if this is what it takes, we're happy to do what's necessary."