Inyo County officials currently want to build or buy a new county office facility in the Bishop area to house the many county offices currently dispersed at eight locations around town.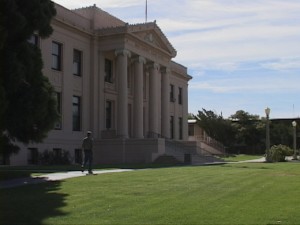 The idea is to save money in the long term by building or buying new office space. Public Works Director Ted Pederson explained that the county is looking to see what interest there is to potentially reduce the cost of office space and end up with ownership.
According to the request for proposals on the county website, Inyo County currently occupies close to 30,000 square feet of office space in the Bishop area. About 24,000 square feet of that office space is leased to the county at an annual cost of $379,000 a year before maintenance and tax is added on. There are seven leases and one county owned facility.
By potentially building and owning a county campus, Pederson says that the county, is trying to do something cost effective that has long term benefits to taxpayers.
One area under consideration for the proposed county campus is a 5.69 acre parcel of county-owned land on the southern boundary of the City of Bishop, but the official request for proposals leaves open other possibilities.
The RFP explores the idea of building county offices on the county-owned land but also allows for the possibility of a facility located on private property, land exchanges, and other options. The open request also leaves room for fixing up an existing facility to consolidate county offices.
So far, there has been some interest in this county request for proposals. Pederson says that his office has already responded to three individuals who have asked for additional information.