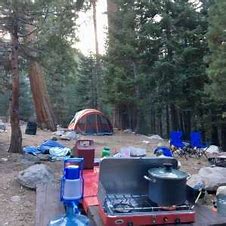 Inyo County's tax collector and auditor held the first of what will be many workshops on a proposal to expand its Transient Occupancy Tax to include campgrounds and RV parks. The 12-percent tax levied on Inyo hotels and motels, has brought in more than $15 million in discretionary County income over the past five years.
The advantage of a TOT: the 12-percent is, primarily, paid by tourists. The disadvantage: if the cost for lodging, or campgrounds and RV parks, gets too high, tourists will get imaginative and create their own campsites—we call that dispersed camping.
According to Alisha McMurtrie, Inyo's treasurer/tax collector, any expansion, in both tax rate or base, has to go on the ballot. If approved, the 48 campgrounds and 10 recreational vehicle
parks in the County will have to increase their rates to include the additional tax.
Inyo's TOT income hit a high of $4,042,336 in the 2018/19 fiscal year, then dropped to
$2,782,650 in 2020/21 due to COVID restrictions. Those funds have gone to grants and
supports, advertising resources, fireworks and fish planting, economic development and COVID relief to non-profits during the 2020-21 fiscal year. Between 13- and 10-percent has been reinvested in tourism over those five years.
If the measure is approved by the Board of Supervisors, the expansion will be on the November
ballot.