A simplified online experience paired with a complimentary lost pet service adds value to Inyo County Pet Licenses.
INYO COUNTY, CA. December 16, 2020 – Licensing pets in Inyo County just became easier, modernized, and more valuable for everyone. Inyo County is delighted to launch their partnership with DocuPet, a world-leading pet profile, lost pet, and licensing platform. Pet owners now get free access to DocuPet's HomeSafe™ Lost Pet Service, and colorful, unique designer tags linked to a secure online profile when they license their pets with Inyo County.
To celebrate the launch, DocuPet is offering a $5 discount on a designer tag purchase until February 4. To redeem, pet owners may enter the promo code INYO5 at check out.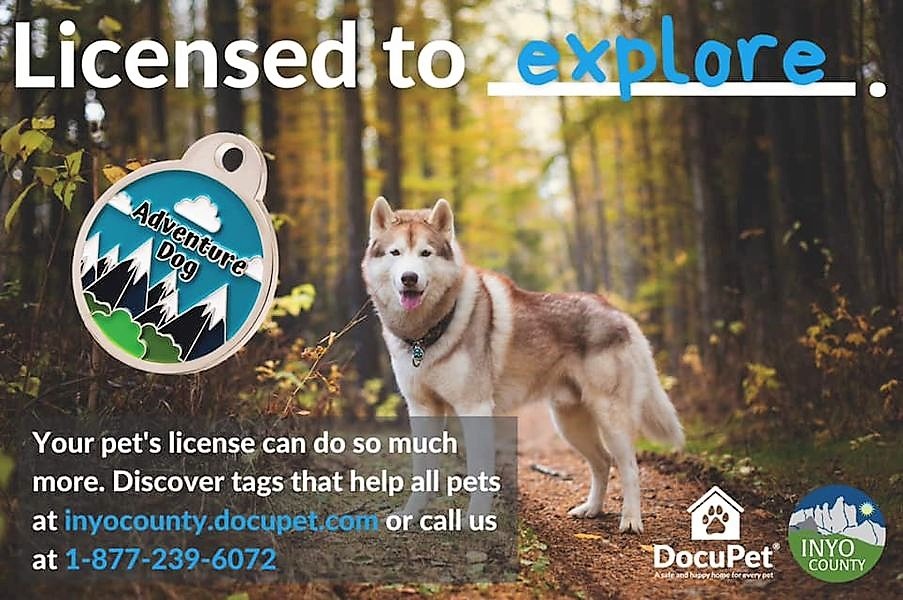 DocuPet's simplified, online experience is especially welcomed as the county navigates a pandemic. In addition to a contactless license application and delivery, DocuPet also offers the 24/7 HomeSafe™ lost pet service included with each license and over 160 colorful designer tags to choose from. Furthermore, funds from each Inyo County pet license are donated to Inyo County Animal Shelter, providing much needed resources for medical treatment of sick or injured animals.
"Running an effective pet identification program is incredibly important for the welfare of pets. Keeping lost pets out of shelters and returning them to their parents is our priority at DocuPet. Over the past six years, we have helped thousands of lost pets get back home, but there is still the same joy in the office every time we get the news that we have another success story. We are really looking forward to helping pets in Inyo County get home safe," says Grant Goodwin, CEO of DocuPet.
"Our shared mission with DocuPet is to provide safe and happy homes for all pets" said Carma Roper, Inyo County Sheriff's Office Public Information Officer. "There are dozens of pets that come into our shelter or into the care of an Animal Services Officer each month. Pets with proper licenses are returned home much faster, reducing their time spent at the shelter and opening up those spots for animals that really need our help."
Licensing your pet in Inyo County is required by law. Pet owners may license their pet online by visiting inyocounty.docupet.com and providing proof of rabies vaccination along with the pet's personal details. Licenses must be purchased for a one-year period.
Pet owners can learn more, license and renew their dog license online at inyocounty.docupet.com, or over the phone at 1-855-249-1370. Licensing by mail and in person is also available.
About DocuPet
DocuPet provides the most advanced pet licensing program in North America, driving ordinance compliance while reducing municipal costs and providing new value to pet owners. DocuPet launched its first municipal pet licensing program in 2014. Since that time, DocuPet has partnered with more than 43 communities. Its offices are in Kingston, Ontario and Syracuse, New York.  In the last year, DocuPet boosted license sales by an average of more than 85% in the communities it serves and helped return hundreds of lost pets to their owners.
Resources:
Inyo County Licensing Website: www.inyocounty.docupet.com
DocuPet Website: www.docupet.com
VIDEO: DocuPet's HomeSafe Service: https://www.youtube.com/watch?v=W80ZREeVIN0