– Press release from the Inyo County Sheriff's Office
Harold Wayne Butterbredt, a 48-year old man and inmate at the Inyo County Jail, passed away suddenly yesterday morning.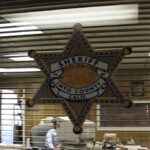 Butterbredt requested to be seen by medical staff around 7:20 AM; he was in the process of being transported to Southern Inyo Hospital when he collapsed in the sally port area outside the jail facility.  CPR was performed and every attempt to stabilize Butterbredt was maintained throughout the ambulance transport to Southern Inyo Hospital.
Butterbredt was pronounced deceased at the hospital at approximately 8:00 AM. An autopsy will be conducted this week to determine cause of death.  The Inyo County District Attorney's Office is conducting an investigation into the incident.