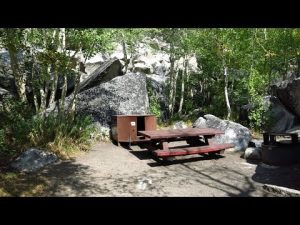 The "crowd" at last week's workshop on applying the Transient Occupancy Tax to area campgrounds was half the size of the initial workshop in early June—down from two to one.
TOT is currently levied on hotels and motels; the County will be discussing the concept of expanding the tax to campgrounds and RV parks prior to a Board of Supervisors' July 19 meeting.
Inyo currently levies the tax on hotels and motels. The County could realize a significant
increase in income with no restrictions on how it could be spent if voters approve the potential
ballot measure in November. Inyo's TOT income topped out at more than $4 million in 2019
prior to COVID.
The presentation made June 29 in Big Pine included a graph on what that additional income
would look like applied to just seven of Inyo's 48 campgrounds and 10 RV parks—just under
$28,000 at 12-percent, $32,621 at 14-percent. There are 48 campgrounds and 10 RV parks in
the County.
According to Alisha McMurtrie, Inyo's treasurer/tax collector, the earlier workshop in Death
Valley drew a significantly larger crowd. The attendees explored the definition of "transient,"
since many of the mobile community in South County spend winters in the area. The significant
number is 30 days, anything less and you're transient. There is a mechanism to establish non-
transiency, but RVers would have to be in the campground for 30 days before they could qualify
for that status.
Inyo's TOT revenues hit a high in the 2018-19 fiscal year at $4,042,336 with 10-percent of that
income going to grants and support, advertising County resources as well as fireworks and fishplanting. During the 2020-21 cycle, at the onset of COVID, Inyo took $100,000 out of the $2.8million revenue for COVID relief to non-profits.