Thousands of California families will parade past an Inyo County display at the State Fair in Sacramento. The Fair started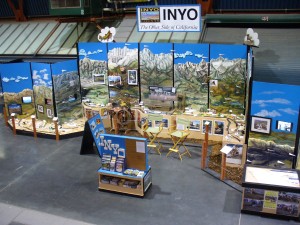 Wednesday and continues for a couple of weeks.
Rich and Kathy White have once more spearheaded the considerable effort to get together a display, and a list of volunteers to man the booth. They gathered videos of the area to run on several TV screens along with the colorful scenic as the backdrop.
The Whites have handled this assignment for several years. The promotional value touches many people who visit the Fair. Inyo County pays for the exhibit.
The art work and videos feature the highlights of Inyo County – scenery, boating, fishing, wildflowers and other beautiful sights.
Other volunteers who will man the exhibit at the capitol building in Sacramento – Perry and Sally White of Independence, Kathleen New of Lone Pine and David Blacker of Death Valley.
The exhibit is up for a possible prize. The Whites will let us know.