Another great exhibit for Inyo County – led by Rich and Kathy White, earned a gold award at the California State Fair in Sacramento. The fair opened last Friday and goes through July 28.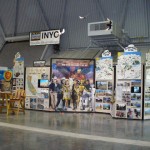 On the opening day the exhibit was staffed by Rich and Kathy White, exhibit designers and builders; Kathleen New, Lone Pine Chamber of Commerce; David Blacker, Death Valley Natural History Association; and Matt Kingsley, 5th district supervisor.
Other volunteers for the full time staffing are Randy and Jen Byerly from Mustang Mesa, Patricia Biggs and John Kepford from Manzanar National Historic Site, and Amy and Shira Noel from Death Valley Chamber of Commerce.
The exhibit contains seven lighthearted murals created by Ruby Garza depicting activities and locations in all areas of the county. Three falcons constructed by Ken Ebert from the Owens Valley's abundant supply of tamarisk and Bondo soar above. Several stars from movies filmed in Inyo are in place in front of the Lone Pine Film History Museum for photo ops.
Additionally, Skelly (Death Valley skeleton) is in place for a photo op at the Furnace Creek Golf Course. Manzanar National Historic Site has provided a block 34 model and slide show. Photos from Death Valley National Park employees share their view of Death Valley.
The 2012 Inyo Photo Shootout images play in a slide show as well as several of the photos in print form. Slide shows from Randy Gillespie of GLS Rhino Adventures, the rejuvenation of Rawson Pond from Dick Noles, the Lone Pine Film History Museum, and others round out the DVD presentations. Photos from local residents are prominently displayed throughout.
And again, Inyo received a gold award. Attendance has been very good and reception of the Inyo County exhibit has been excellent, according to Rich and Kathy White.