By Charles James
It was a nice day for picketing as several dozen Inyo County employees let the public know they are not happy with the progress of talks with the County of Inyo after working the last three months without a contract agreement. Many of the cars and big rigs passing through town "honked" their horns and waved support to the union members.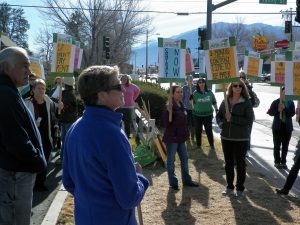 Unable to talk to the press while union negotiations continue with the County of Inyo did not stop three dozen union members that work for the County from using signs to let their feelings be known about how the direction of a new labor contract seems to be going—which appear to be at an impasse.
Several union speakers and local union supporters, including nurses from Northern Inyo Hospital who recently completed a successful contract with the support of the local County union, emphasized the importance of public services that make life in Inyo County safer and manageable.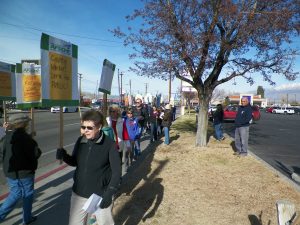 One sign mentioned an offer of a 1% raise, which obvious has only served to antagonize the County workers who claim that what amount to about a 15-cent an hour increase was insulting.
The purpose of the union members picketing on Main Street was to bring awareness that the unions and the County are in labor contract negotiations and the union would like the public's support for "livable wages" that at least keep up with inflation.