– Press release
Inyo County received a Silver Award at the California State Fair which opened Friday, July 11, for a 17-day run at Cal Expo in Sacramento.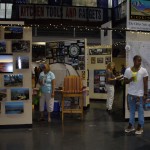 The theme for the counties exhibits is "From Our County To Your Table."  Inyo's exhibit features a table of local products that are available on line and outside the local area including Crystal Geyser water, Schat's Bakkery bread, Mahogany Smoked Meats jerky, China Ranch dates, Baxter honey, plates created by Drew Wickman, a pine needle basket woven by Priscilla Maxey, lavender from De La Cour Ranch, as well as some fake steaks and hamburger patties.
The Inyo-Mono Agricultural Commissioner's Office provided photos and statistics of the ag production in the county.  Lone Pine FFA and the Inyo Cattlemen's Association provided panels showing several of the local ranches and their activities.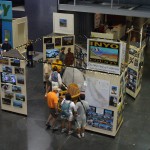 Southern Inyo Growers created a panel with photos of local food products available at our farmer's markets.  Additionally, a power pole with signage shows that Inyo produces and exports power for more than 150,000 households.  Eastern California Museum's display contains historic farming photos.  A 3' x 5' map of the county shows most of the historic and current mines and a display case contains a variety of ore specimens.
Since Inyo's major industry is tourism, panels and videos show Laws Railroad Museum, Mt. Whitney Hatchery, Lone Pine Film History Museum, Mule Days, High School Rodeo, Manzanar National Historic Site, Death Valley National Park.  Additional photos have been provided by local photographers.
The display, funded by the County of Inyo and designed and constructed by Rich and Kathy White, is being staffed daily by volunteers Jay Smart, Mike and DeEtte Johnston, Perry and Sally White, Michel and Jane Wehrey, Greg and Laura Smith, Rich and Kathy White, Matt Kingsley, and Brad Thorn.
For those who can't get to Sacramento by the 27th to see the exhibit, another opportunity will be available to see it at the Tri County Fair Labor Day weekend.