Inyo County news release
With improvement projects continuing to be completed and efforts to obtain necessary Federal certification ongoing, the Bishop Airport is closer than ever to being able to offer commercial air service for the Eastern Sierra.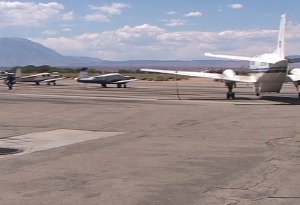 Fresh off the heels of Phase II of its Passenger Traffic Study, which included both short- and longterm flight forecasts subsequently approved by the Federal Aviation Administration (FAA), the Inyo County Board of Supervisors earlier this month authorized the County's longtime airport consultant to begin work on obtaining the certification needed to accept commercial aircraft at the Bishop facility.
According to Public Works Director Clint Quilter, Wadell Engineering Corporation will be developing a draft Part 139 Airport Certification Manual (ACM), which, after the promising results of the Phase II Passenger Traffic Study, felt like the next logical step for the County as it looks at commercial air travel from a regional perspective.
Requirements for Part 139 operations are flexible with regard to scope and timing. The draft ACM will provide a starting point for discussions with both the FAA and the Transportation Safety Administration (TSA) regarding these requirements," Quilter said. "The County is enthusiastic about moving to this next step."
Wadell has subcontracted with Ben Castellano and Art Kosatka, universally acknowledged experts in the field of airport compliance and security. Under Phase I of this effort, they will create the Airport Certification Manual, train airport personnel in Part 139 requirements, create an Airport Emergency Plan, and prepare an initial Transportation Security Administration (TSA) and security assessment.
Phase II, which has yet to be approved, will entail finalizing certification and security plans and actions required for airline service.
In the meantime, the County will be wrapping up more improvements at the airport this fall. A $1.8 million project to rehabilitate the aircraft parking apron is about 50 percent complete, and comes on the heels of pavement crack repairs, pavement sealing and paint markings, and terminal area security fencing installation that were completed in March to the tune of $1.6 million.
Since 2013, when the County entered a Master Agreement for airport improvement project planning and engineering services with Wadell Engineering Corporation, $7.9 million worth of work has been done at the Bishop Airport.
Airports cannot accept commercial aircraft without Part 139 Certification, and the Bishop  Airport has not had a Part 139 Certificate since the 1990s.
Also required in order to accept commercial aircraft is a letter of interest from an airline, which Inyo County received from Allegiant Air earlier this year. In its February 2017 letter, the airline stated it has the resources to connect service with a 156-seat A319 two times a week, initially, from Metropolitan Oakland International Airport, LAX, and Phoenix-Mesa Gateway Airport, contingent on Bishop Airport meeting the airline's needs as well as state and federal regulations.
The County is confident it can do both, and points to Allegiant Air's initial interest as a good sign for the future of Bishop Airport and reliable commercial air service in the Eastern Sierra.
"Allegiant's interest along with the results of the Phase II Passenger Traffic Study
demonstrate that in addition to an ability to enhance reliability at Mammoth, there is an appetite for air service above and beyond that currently supplied," Quilter said.
The FAA itself has supported the County's efforts to improve the Bishop Airport with
approximately $7.1 million in grant funding thus far to help cover the costs of the improvement projects. An informal review of the Bishop Airport by a regional FAA representative also informed the list of projects developed by the County's consultant.
And while lighting fixes and runway repairs were found to be necessary, the facility overall has many attributes working in its favor, including significant acreage (895), lack of airspace constraints, minimal crosswinds/wind issues, wide runways (150 feet), long runways (7,500 feet), two federal NAVAIDS on site, three separate runways, unlimited runway lateral clearance and night use, no limit to runway directional use, and the ability to host aircraft as large as 757s, 737s, and 319s.
The runways are also incredibly strong – stronger than even the County had previously thought.
According to Quilter, recent testing revealed runway strengths to be much stronger than the previously estimated strength of 240,000 pounds allowable for dual tandem aircraft (two sets of two wheels).
"In conjunction with design of the apron project, non-destructive testing was done on all of the airport pavement," he said. "While these are substantial engineering documents, a key take away are the strengths of Runways 17/35 and 12/30. Runway 17/35 has a dual tandem allowable load of 408,000 pounds and Runway 12/30 has a dual tandem allowable load of 600,000 pounds. What this means is that Bishop Airport can easily accommodate some very big commercial aircraft."
Residents of Inyo County have been vocal for many years about the Bishop Airport being developed for the purpose of economic development. The County and Board of Supervisors are committed to exploring the option of commercial air service at Bishop Airport – and working with neighboring jurisdictions to provide the best commercial air service possible, in terms of number of flights and reliability, on a regional level.
The Board believes great things will be coming to the Bishop Airport and is hopeful the entire Eastern Sierra will benefit as a result.