Inyo's Chief Administrative Officer Clint Quilter set a deadline on commercial air service
in Bishop by October of this year and he's sticking to it. But, he did explain his deadline
philosophy during an airport update at last week's Board of Supervisors' meeting. "My philosophy is the little train that could," he said. "Once you've made the commitment (to get something done), you pick the most aggressive schedule that's reasonable.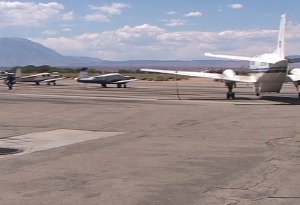 Everybody's bought into this schedule and the Federal Aviation Administration is willing to
help."  So, there you have it.
Ashley Helms, Inyo's associate planner, went through some of the finer details like the
requirement for an aircraft rescue and fire fighting vehicle. The County is "trying to tap into a
used" vehicle which will be significantly less expensive to purchase but would also come with
the cost of getting it to Bishop. "The FAA may fund a new vehicle," Helms told the Board, "but it
takes a year to build." The County is looking at a rental option and will be sending two current
airport staff to San Bernardino for training this spring.
The County has most of the questions ticked off—i.e. snow removal will be handled by a
used Bishop dump truck equipped with a plow, United Express is lined up to start service. The
biggest issue may be airline subsidies in the event of empty plane seats.
Quilter told the Board he's been talking to Mammoth Mountain and Mammoth Lakes
Tourism. The Town of Mammoth Lakes "has made it clear it won't pay subsidies for travelers to
Inyo County" just as Bishop doesn't pay subsidies to Mammoth.
A passenger survey at the Mammoth Lakes facility will provide an idea of the
Mammoth/Inyo proportion, Quilter said.