Press release
The Inyo County Board of Supervisors recently approved nine grants to various local, non-profit community groups and organizations, for a total of $20,984.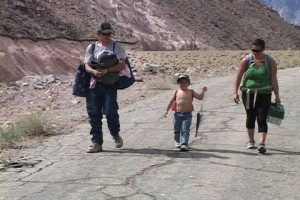 The grant process is part of the county's Community Project Sponsorship Program, which awards grants to projects and programs that will help promote the area to visitors, create events that attract local residents and visitors, or enhance the cultural life of residents. For 2019 the Board of Supervisors approved roughly 19 CPSP grants, with a total allocation of $95,000.
The grant awards included providing $7,500 to each of the four local Fishing Derbies (the Lone Pine Early Opener, The Blake Jones Trout Derby, the Big Pine Trout Derby, and the Independence Trout Derby). In addition, $5,000 was set aside for other longstanding fishing-related promotions and events. Also, $39,016 was allocated to other successful, yearly projects and events (The Wild Wild West Marathon, the Inyo County Visitor Guide, the Death Valley Visitor Guide, the California High School Rodeo Finals, and the Inyo Shootout Photo Contest).
The third segment of the grant program involves dispersing $20,984 through the CPSP "competitive grant" process.
Nine local non-profit groups submitted grant applications for 13 separate events or programs. The total requested was $58,085. A grant review panel made up of three residents scored each grant application based on the criteria in the Grant Guidelines. The panel also worked collaboratively to award the total of $20,984 in available grant funding. The grant review panel recommended funding for nine grants. The Board of Supervisors unanimously approved the grant award recommendations at its March 12 regular meeting.
The following is a list of the nine projects, events and programs approved for CPSP grant awards in 2018.
Fifth Annual Owens Lake Bird Festival (Friends of the Inyo): This well-received event continues to highlight the birding and wildlife viewing opportunities on the Owens Dry Lake, which has become a notable, statewide birding destination. The festival attracts visitors from around the region, state and the country. Grant award, $2,600.
First Annual SIH Salvation Foundation Car Show (Southern Inyo Hospital Salvation Foundation): This new, non-profit foundation will host a Car Show and related activities on the grounds of the Southern Inyo Hospital. The event will raise funds for the foundation. Grant award $1,667.
Eastern Sierra Tri-County Fair Entertainment (Friends of the Eastern Sierra Tri-County Fair): This non-profit group will use the grant proceeds to augment the aggressive online, social media and digital marketing campaign for the 2019 Tri-County Fair Concert/Grandstand entertainment. Grant award, $2,500.
Mule Days Digital Promotion of the 50th Annual Mule Days Video (Mules Days): The Bishop Mules Days Celebration is marking its 50th anniversary with a historical, promotional video. The grant will help promote the video to a national audience though online and social media campaigns, which will also highlight and promote visitation to Inyo County and the Owens Valley. Grant award, $3,000.
Music in the Courtyard (Lone Pine Chamber of Commerce): This popular event brings live music from local bands and musicians to Lone Pine on summer evenings, which is enjoyed by visitors and residents alike. Grant award, $2,883.
Easy Hiking Trails Brochure (Bishop Area Chamber of Commerce and Visitor's Bureau): Grant funds will be used to help reprint this popular brochure, which highlights hikes in the Bishop, Independence and Lone Pine areas. Grant award, $1,117.
Eastern Sierra Dispersed Camping "Leave No Trace" Visitor Handout (Bishop Area Chamber of Commerce and Visitor's Bureau): This new brochure will highlight "Leave No Trace" and other ecologically friendly camping guidelines to help visitors learn how to reduce impacts from dispersed camping. It is hoped local and regional public land management agencies will also contribute to this educational effort in the future. Grant award, $1,600.
Inyo County FAM Tours (Bishop Area Chamber of Commerce and Visitor's Bureau): This project helps educate front-line hospitality employees about the numerous attractions and events in Inyo County so they can provide useful, up-to-date information to visitors. Grant award, $2,000.
First Friday Market (Bishop Mural Society/Eastern Sierra Artists): This event debuted last year and generated a great response and impressive attendance from visitors and residents. The event works to highlight the Bishop Farmer's Market and add food and beverage vendors and a contingent of local artists, crafters and performers to the event, which will be held on Warren Street in Downtown Bishop. There will be four, First Friday Markets during the summer. The City of Bishop has offered its support, as well. Grant award, $3,667.