The Grand Opening of the Inyo County Animal Shelter in Big Pine will take place this Saturday, July 11th.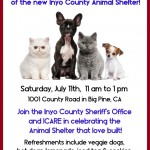 Last November, there was a ribbon cutting ceremony for the $800,000 building. The successful fundraising effort was led by ICARE of the Eastern Sierra with the help of the community, the County, and many local civic and service groups.
The new facility has 22 dog kennels and cat room with 24 cages. There is also office space for staff, a reception area, and stations for cleaning and care of the animals.
Inyo County Supervisor Rick Pucci told the crowd last November, "What is remarkable about the new animal shelter was its successful partnership of the public and private sector."
The Inyo County Animal Shelter on County Road in Big Pine Grand Opening is Saturday from 11 am to 1 pm – there'll be hot dogs, veggie dogs, lemonade, iced tea and cookies.
And while you're there, check out the great dogs, cats, kittens and puppies available for adoption – July is $10 adoption month – all companion animals available for adoption for just $10, and that includes spay-neuter and first shots.
A Sierra Wave salute to the great folks at the animal shelter and to Lisa and Ted Schade, founders and driving members of ICARE.