By Deb Murphy
Inyo County residents celebrated their new animal shelter, aptly re-named the "Inyo County Adoption Center," Saturday afternoon on a hilltop east of Big Pine, overlooking the former shelter, the old County Farm's dairy barn.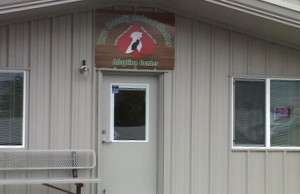 The contrast between the old and the new is stark. The cats have larger cages and access to their own play room; the dogs are housed in big cages with access to the outdoors and can romp in their own grassy playground. The facility has a "get-acquainted room," a real office, climate control and ventilation, and an exam room; heaven compared to the cramped quarters the Sheriff's Department Animal Services operation moved out of a few weeks ago.
The Grand Opening included all the traditional trappings: food, tours, speakers. Sheriff Bill Lutze, ICARE head Ted Schade, Supervisors Matt Kingsley and Mark Tillemans and Animal Services Supervisor Julie Richardson all gave credit for the facility to a community that, first, reduced the shelter's kill rate and increased the adoption rate, then concentrated on building a good home for abandoned animals.
"This started 19 years ago," Shade, who with his wife Lisa started ICARE after a visit to the old shelter. Initially, the organization's fund-raising efforts concentrated on an effective spay-neuter program.
Then two years ago, the new facility was proposed to the Board of Supervisors, built with a combination of donations and county funds. The annual ICARE dinner held in 2013 started the fund-raising effort.
The following year, the Lions and Rotary Clubs threw a hugely-successful spaghetti dinner. When all the eating was done, ICARE had raised more than half of the $800,000 needed for the facility. The balance of the building cost came from the county and the Sheriff's Department including $150,000 from an anonymous donor.
The beneficiaries of the community's generosity come in all shapes, sizes and breeds, gifted with pleasant living quarters until their adoption.
###
Please see Sierra Wave TV 3 Eastern Sierra News on this website for a video report