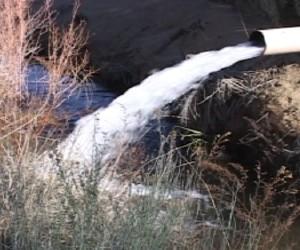 Inyo County has taken legal action that asks the Los Angeles Department of Water and Power to reduce the amount of groundwater the agency plans to pump from the Owens Valley in the next year.  In recent years, Inyo has let LA get by with more pumping than believed healthy for the Owens Valley but not this year.
In a press release, officials point to DWP's plan to pump 91,000 acre-feet as the "highest level of groundwater pumping by LADWP since 1989."  The release says that by reducing that amount by less than 10%, LA could avoid a "potentially costly legal battle."
Supervisor Chair Susan Cash noted that this year's high snowpack and runoff in the Eastern Sierra can be used to "both help repair environmental damage from drought and previous pumping and still supply the City of Los Angeles with about 70% of its drinking water needs."  Cash referred to both surface and groundwater.  Cash said that even with the County's proposed pumping reduction of 22,500 acre feet, DWP will still export out 380,000 acre feet of water from our area.
The press release goes on to describe the County's scientific analysis of well fields proves the need to reduce pumping to protect the environment in  several areas.  Supervisor Cash also pointed out that "The larger question is whether the leaders in Los Angeles will be willing to work with Inyo County cooperatively on this fairly simple issue."
The press release says Inyo will continue to pursue a positive relationship with LA.  However, it says, "the Board believes that it is in the interest of the people of Inyo County to exercise the County's rights under the Long-Term Water Agreement to seek to protect the environment of the valley."  Now the issue goes to the Inyo-LA Technical Group.  If not resolved there, it goes to the Standing Committee and ultimately could go to mediation, arbitration or the Superior Court.  Inyo officials said they hope LA will agree to this so the dispute does not go beyond the Standing Committee.