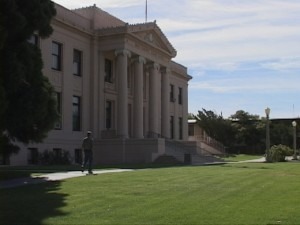 On the eve of hearings on the proposed Hidden Hills Solar project near Death Valley, BrightSource Energy and Inyo County have signed an agreement that addresses Inyo's concerns, pays the County $15 million, minus certain credits, and assures Inyo will not oppose the project in front of the California Energy Commission. In a last minute, post agenda item, the Supervisors added the agreement and voted for it.  Sources said they were "negotiating up to the last minute."  The agreement is posted on Inyo County's website.
Tuesday, the Inyo Supervisors approved the agreement to satisfy county concerns about the project impacts. Officials had repeatedly said they had problems with the low amount of property taxes BrightSource would pay, the impacts of their large work force, law enforcement needs, and impacts to roads. The 15-page agreement says that BrightSource will pay Inyo $2.5 million upon commencement of construction and $12.5 million when the company starts to sell electricity. The agreement spells out that BrightSource is entitled to certain credits.
In exchange for this, Inyo County will not oppose the project when the California Energy Commission makes a decision on Hidden Hills. The agreement says that if BrightSource needs to use the Old Spanish Trail Highway for heavy truck hauling, they will pay Inyo a per-incident penalty of $10,000. Apparently, BrightSource plans to use other roads most of the time.
The document, signed by Hidden Hills officials and Inyo officials, lays out a number of details and possible scenarios in the course of the project, including possible plant closure and reclamation.
The Hidden Hills Solar project is described as a 500-megawatt power plant in Charleston View. The project includes two 750-foot towers surrounded by 85,000 mirrors with power generation equipment, electrical transformers and more. Power transmission is proposed through Nevada.
The Energy Commission staff had determined that this project would have significant impacts on many resources. With no opposition from Inyo, the Energy Commission will still likely demand mitigations or determine that the value of generating power outweighs the environmental impacts. Hearings in front of the CEC are scheduled for next Monday and Tuesday in Sacramento.