The sentencing in a Lone Pine assault case has been postponed until December.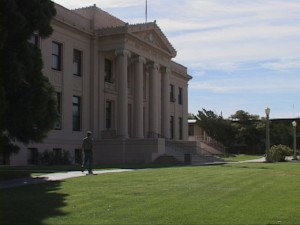 In February, Inyo Sheriff officers arrested 53-year-old Richard Douglas Olson of Lone Pine for alleged child molestation. The victim was said to be a twelve-year-old juvenile, according to Inyo Sheriff officials at the time. While originally charged with alleged molestation, Olson has pleaded to assault with force likely to create great bodily injury, according to Assistant District Attorney Mark Johnson.
Olson was set to be sentenced on Friday on the assault charge, but court officials say that the sentencing date is now scheduled for December 4. Johnson reports that Olson faces up to 4 years in prison.
The trial against a Mono County man for child molestation continues into its third week. Michael Jay Harris faces 24 counts of lewd acts with a minor under the age of 14 along with additional charges. This Mono County Court trial started on Friday October 30th and continues this week.