On Tuesday the Inyo Supervisors approved a new ordinance that gives businesses in Inyo and Mono Counties some preference when it comes to county spending.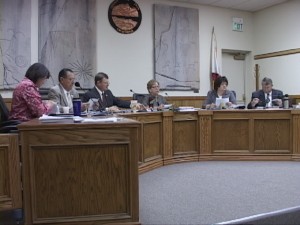 This ordinance pits helping local businesses and the local economy vs. paying more when the same good or service, from paper to sizeable plumbing jobs, could be had for less.
The ordinance lists two preference categories, one for small business and one for local business. The ordinance would favor a local or small business during the bid process on projects that cost under $10,000.
When bids come in on a project, the county would have to pass over the lowest bid if a local business was within 8% of the lowest bid. A state certified small business would win the contract if it was within 5% of the lowest bid.
For public works and road projects, if no local or small businesses bid on a project, the county can give a 5% preference to contractors that subcontract with small businesses.
The impact on local businesses and the countys bottom line is not known, but county staff plans to track how often departments end up using this ordinance to give local preferences over the course of a year.
The Supervisors supported this ordinance with a 5-0 vote.