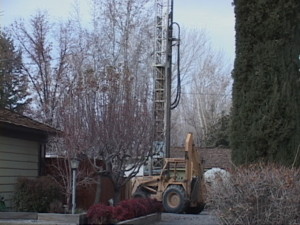 In a memo that takes a preliminary look at wells that dried up in West Bishop, Inyo Water Director Bob Harrington concluded at the end of December that "the recent declines in the water table are due to lack of recharge from surface water conveyances."  (See memo: http://www.inyowater.org/wp/wp-content/uploads/2014/01/W407-memo.pdf
That initial conclusion leads to concerns over dry years and how water is managed in the Bishop Creek drainage. A 1922 court decision called the Chandler Decree spells out flow requirements from the lakes. In the past, DWP, which operates under the court decree, has allowed variances from its flow requirements when asked by Southern California Edison. This past summer, DWP declined. The lakes nearly dried up and water ditches through West Bishop did dry up.
Harrington said he and Water Department staff will continue to investigate what has caused domestic wells to go dry. He said that Thursday he and others would look at monitoring Well 389 east of Barlow Lane and try to get a better picture as to why it dropped dramatically over the past few months.
When Harrington first received information that domestic wells on or near Highland Drive had become inoperable due to low groundwater levels, he contacted the Department of Water and Power and they temporarily shut of Well 407 in the area. That well provides irrigation and stock water to DWP lessees. The Inyo Water Department and DWP then monitored two nearby wells. Water in the one closest to Well 407 rose several feet in a few days. The other monitoring well, 389, showed very small recovery. It is this well which had dropped roughly from seven feet below the surface to seventeen feet down in the past few months. It is unknown if this water table drop is related to the West Bishop well problems.
Past patterns of Well 389 seem to show that summer recharge brings up the water table and lack of surface water in the fall and winter causes the groundwater to drop. Again, Harrington and his staff will continue to investigate.
Harrington's preliminary conclusions say the groundwater levels in the South Barlow and Highland Drive area are at their lowest levels since the early 1970s. He also notes that this year Well 407 was operated for longer into the fall than is usual, but Harrington doesn't believe this well caused the domestic well problems. Harrington also points to the fact that water ditches in the West Bishop area were cut off in mid-summer, which he says, "likely contributed to the recent decline in water table elevation in the area."
For several years, Southern California Edison has asked DWP for variances to the Chandler Decree to allow regulation of the flow out of the lakes and down the creeks for better management. According to Edison, DWP had said yes until last year when they twice denied Edison's requests.
It was at that time that South Lake and Lake Sabrina nearly dried up. Ditches and ponds through many properties in West Bishop did dry up. DWP Manager Jim Yannotta said that the Chandler Decree spells out flow requirements and does not allow DWP to modify them. But, according to Edison, DWP has allowed modification of the flows. Debbie Hess of Edison said it is her understanding that it has been a common practice for Edison to request and get a variance from DWP and only this past year were they denied by LA.
Meanwhile, many hope for snow, and some are literally going to pray for it. The Bishop Methodist Church has organized a prayer for snow and rain in the Eastern Sierra. They have asked citizens to join with others to pray at Bishop City Park, near the Gazebo on Sunday, January 12 at 3 pm. This informal time of prayer is open to the community and coordinated by Laura Smith and Pastor Kathleen Puntar of the Bishop United Methodist Church.