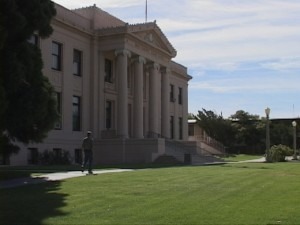 Sources close to the situation had confirmed that the Inyo District Attorney's Office has undertaken additional investigations in the reported embezzlement of funds from the Inyo Welfare Office in Bishop. Inyo DA Art Maillet has now issued a press release on this case.
The release says that investigators from the DA's Office "will be taking over the investigation in the alleged embezzlement of public funds from the Inyo County Health and Human Services." The release goes on to say that the Bishop Police Department had sent a law enforcement report to the District Attorney's Office. According to the DA, "It required additional investigation and was returned to the Bishop Police Department for further clarification of several issues."
The DA says that Chief Chris Carter has "informed the District Attorney's Office that after their follow-up investigation, they will do no further investigation due to the lack of resources." The DA says his office will complete the investigation.
When contacted for his comments, Chief Carter said, "The DA has decided to pursue other charges in addition to the embezzlement. The PD and District Attorney have worked closely together on this investigation, however, as stated by the District Attorney, the PD did not have sufficient resources to complete the additional investigation regarding these other offenses and therefore the District Attorney Investigators have taken over that portion of this investigation."
Chief Carter had reported that his department concluded and handed the embezzlement case over to the DA on February 21st. Since then, reports indicate, other issues came up for investigation. Officials have so far not revealed how much money is involved in this case.
The DA's press release says that his office will complete their investigation "on or about April 15th. At that time," says the release, "the DA's Office will determine what charges should be filed, if any, and who should be charged."
In earlier weeks of the investigation, Bishop Police identified Dawndee Rossy, a Welfare Office employee, as a "person of interest." Officers had served a search warrant at her Bishop home.