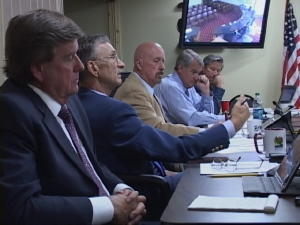 For nearly four hours, the Mono Supervisors held a discussion on June Mountain, the Mammoth Mountain land trade and a
letter proposed to go to Mono County's Congressional delegation. In the midst of it all, Mammoth Mountain CEO Rusty Gregory introduced his new management team.
Supervisor Tim Alpers had come up with a letter that he proposed the Board send to Senators Feinstein and Boxer and to Congressmen Paul Cook and Buck McKeon. The letter described the importance of support for a recreation corridor in the Eastern Sierra, including both Mammoth and June Mountains.
Citizens had tried to hold up Mammoth Mountain's trade of land at the Main Lodge to pressure Gregory to re-open and improve June Mountain. Congressman Cook had issued a letter that said he would delay legislation on that trade. Tim Alpers' letter offered support to the land trade but also a regional plan for the success of June Lake and its Mountain.
Rusty Gregory stood up to say the land trade had started long ago. He said only one thing changed – closure of June Mountain and "the tremendous acrimony that surrounds that." He said the changes at Mammoth Mountain he had hinted at may have caused concern about his commitments to re-open June Mountain. Gregory then turned to his new leadership team to show that he was still on track with June. Gregory said, "I will continue as the CEO and an owner." He said he would focus on bringing to the company the capital required and move out of the economic difficulties of the recent past.
He first introduced Greg Dallas as the new Chief Operations Officer. Dallas, a long-time management employee of the Mountain. Ron Cohen will serve as Company Administrative Officer, Mark Clausen is Chief Financial Officer, Erik Forsell has the job of Chief Marketing Officer. One position remains vacant – that of Chief Operations Officer of Hospitality.
Gregory underscored the bad drought years and disastrous economic meltdown that hit everyone hard. He said Mammoth needs to market June Mountain better, focus on families and the community. He said the company will give June Lake more resources. He said the new COO, Greg Dallas, would work to stretch overhead farther and stretch Mammoth resources to June.
Dallas himself said that Gregory gave the new team the power to position Mammoth Mountain in support of June Mountain. He said many resorts have multiple ski areas. Dallas said, "I have the ability to do efficiencies that have never happened before. There has never been this kind of synergy before. That's how we will get profitable and grow June."
Dallas said Carl Williams will remain General Manager of June Mountain and Julie Brown, formerly of Mammoth Mountain, will head guest experiences. Abigail Ross will handle sales and marketing.
Gregory said it is hoped that "We are heading in the right direction with June." At the same time, he pushed for support of the Main Lodge land trade. In the end, the Supervisors voted unanimously to send Tim Alpers' letter, and another brief letter supporting the land trade, to Mono's federal legislators. The documents will come back for final approval at the Supervisors' July 2nd meeting. We will have more from this information packed meeting on later broadcasts.