Financial drama has developed at Whistler Blackcomb Ski Resort, venue for the winter Olympics and subject of an apparent foreclosure attempt against Whistler owners, Intrawest. As one source put it, Intrawest racked up too much debt for its cash flow.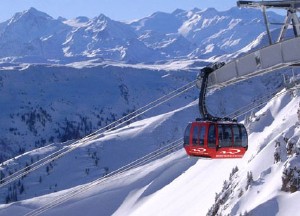 Of course, Intrawest also has various holdings in Mammoth Lakes -15% of the Ski Area, an interest in the Westin Hotel, 35% of Sierra Star Golf Course and an interest in a hospitality-management program at Village lodging and Juniper Springs. Will the Canadian scenario hurt Mammoth?
Mammoth Mountain CEO Rusty Gregory said that the financial twists and turns of Intrawest will not negatively impact Mammoth. He said that if the foreclosure goes through, someone else may own Intrawest interests in Mammoth. But, Gregory said, "It won't affect holdings here."
News reports say that Intrawest borrowed $1.4 billion against Whistler from Lehman Brothers, which fell to its own problems. According to the New York Post, Lehman announced plans to foreclose on Intrawest, owned by Fortress Investment Group. The report says that "Fortress bought Intrawest in a $2.8 billion leveraged buyout in 2006 but recently missed a $524 million debt payment."
Some sources say the foreclosure talk amounts to saber rattling in this high stakes game, but the New York Post points out that Lehman Brothers, in the midst of restructuring, desperately needs cash. The Post said, "By forcing Intrawest into bankruptcy, Lehman and other creditors could raise several billion dollars repossessing Intrawest and selling off its various resorts."
Meanwhile, the Winter Olympics will start February 12th at Whistler. The Olympics have become a kind of unwitting chip in this game, although there are no indications that the games will be interrupted by this behind the scenes money war.