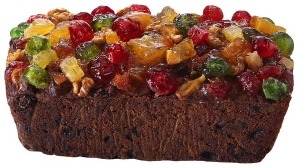 EIGHTH ANNUAL INTERNATIONALLY ACCLAIMED INDEPENDENCE FRUITCAKE FESTIVAL
FIESTA DE FRUITCAKE
Coming to Independence on December 15th is the latest incarnation of the annual Fruitcake Festival, "Fiesta de Fruitcake".  It is south of the border fun for this year's Fruitcake Festival.  There are many possibilities with this year's theme for creating a winning fruitcake.  Categories include oldest, travelled the farthest, best of theme, most solids, and judges' award.  Our fruitcake judges employ mechanical, empirical and philosophical techniques to select winning fruitcakes in those categories.
Most people participate along with their fruitcakes by wearing theme-oriented costumes.  This is not required, but in the past we have found that a good many people like to dress up more than their fruitcakes.  This year we will have our first ever "Best of Theme" costume award.
We are threatening to make this the last Fruitcake Festival.  It may be your last chance to attend this Internationally Acclaimed event.  Once again it has garnered media attention, which makes us wonder about many things.  You will find articles about the Festival in Country Woman magazine, as well as in the Washington Times.
To attend the Festival, you must bring a fruitcake or eggnog. Homemade fruitcake or eggnog is preferred.  The eggnog can be transported to the festival in a milk jug.  Please label it as "leaded" or "unleaded".  We have refrigeration on site.  The eggnog is always served in elegant punch cups at the bar.  It is worth the trip to Independence just for that fact alone.
There also will be "fiesta appropriate" food available for purchase to round out the food groups.
More information at www.inyocounty.info
Location:  American Legion Hall, Independence, California
Date and Time:  December 15, 2012 at 6 PM
Telephone number:  760-878-8084
Email Address:  [email protected]
Fruitcake Judging Criteria:
The nutometer will also be used as the instrument to determine the "most solids" in this year's contest.  The judges may want to taste the fruitcake to help identify objects imbedded in the batter.
Most Solids– Using the nutometer, determine which one of the dense cakes contains the most solids.  The solids could be fruits, nuts, or what have you.
Traveled the Farthest – This is all about the fruitcake, not the person.  This should be entered on the label.
Oldest Fruitcake – Again, this is the fruitcake, not the person.  The information is also on the label.
Best of Theme – The three judges should come to a consensus regarding the fruitcake that reflects this year's theme  "Fiesta de Fruitcake".
Judges Award – This is an optional award.  This award should be used to honor a fruitcake that stands out, but doesn't meet the above criteria.