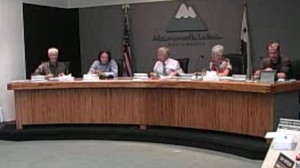 At a special meeting yesterday, the Mammoth Town Council did vote to hire an Interim Town Manager. He will start on October 1st.
The Council had interviewed three candidates at an earlier meeting. Mayor Rick Wood said that the new Interim Manager is Dan Holler, former City Administrator of Grass Valley, California, and formerly the CAO of Douglas County.
Wood said the Council will take action at its regular meeting on Wednesday, October 2nd to ratify the terms of Holler's contract in open session. More information on the new official was expected out this week.
Mr. Holler will step in to the void left by the resignation of former Manager Marianna Marysheva-Martinez. The Mayor has indicated that the Town will move forward with hiring a permanent manager.