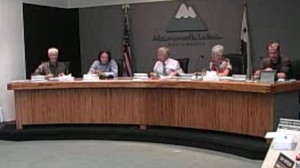 Last Wednesday, the Mammoth Town Council interviewed three candidates for Interim Town Manager. Today they planned to attend a special meeting at 2pm for a closed session to consider appointment of an Interim Manager.
The agenda for the special meeting also says there will be an appointment of an Interim Town Manager in open session. The Council has not publicly discussed who the candidates are or what the expectations and length of employ will be.
All of this comes on the heels of the resignation of former Town Manager Marianna Marysheva-Martinez. The Council, on advice of their attorney, has not discussed any of the details of why Martinez resigned. Mayor Rick Wood did say he did not believe she was the one to lead the Town on into the future.
In a six-page Separation and Release Agreement, Martinez agreed to resign as of September 6th, will get 30 days pay and unused leave. The Finance Department said this will total $17,800. The former manager also agreed not to file any claims or lawsuits against the Town.
As for hiring a permanent town manager, Mayor Wood had said that the Council would have "an open, transparent process with advertising, a head-hunter, appointment or whatever method we use to hire a permanent town manager." Wood said there would be a "public vetting" of candidates for manager.