The Mammoth Lakes Police Department is losing another officer, but this time its because of resignation and relocation. School Resource Officer Matt Graef is moving out of the state to Arizona. At the Nov. 4 Town Council meeting, MLPD Chief Randy Schienle came before the Council to fight for the health of his department.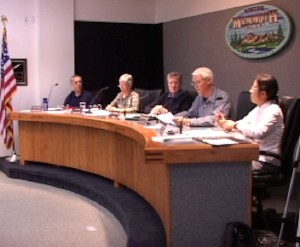 My interest here is to maintain minimum staffing levels, Schienle said. He added that if Officer Graefs position were to go unfilled it would be one more vacancy on top of the 18 percent decrease in staffing the MLPD has already seen over the past year because of budget cuts.
Schienle claimed he had reviewed the last 84 shifts at the police department and had determined that 47 of those 84 shifts had been staffed by the minimum number of officers, which is two.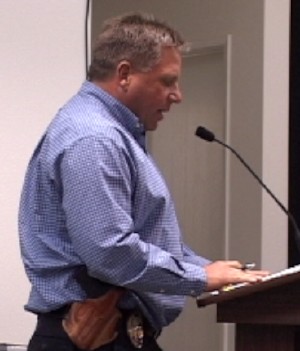 If those two officers are called out and then something else were to happen, there would be no one left to staff calls, Schienle summarized. He also pointed to part of the Mono County Grand Jurys Report that the Council had responded to at their previous meeting.
The Grand Jury Report, which you have all read at one time or another, said further decrease will have negative impact on MLPD services, Schienle said. We have to stop the bleeding at the police department at some point.
Schienles plan if the Council approved backfilling the officers position was to only fill the school resource position part-time because he no longer felt they had the manpower to put an officer in the schools full-time. The majority of the Council also felt that if the schools wanted a full-time school resource officer then they should help pay the salary for that officer.
Mayor Pro Tem John Eastman was the lone Council member who felt that the officers position should not be filled at this time.
The recession is not over yet in Mammoth, Eastman said referring to recent reports that the recession is over in the rest of the country. He added that it was a potentially $150,000 position that they should hold off on hiring until the budget process for the 10/11 fiscal year.
We need to hold off on hiring until the winter is under our belt and we see where we are economically, Eastman said. He added that back in the heyday of the 70s the Mono County Sheriffs Department was able to handle any ruckus that was stirred up in Mammoth.
Council member Skip Harvey, and the other three members, however felt that the 1970s were no comparison for the crimes and drugs going on in Mammoth today. The rest of Council felt the position should be filled, especially since it was already budgeted for, but that talks with the schools and Mono County should determine the potential of having them help fund the school resource officer position in the future.
The vote was 4 to 1 to fill the police officer/ school resource officer position. Eastman voted no. He pointed out that the overall town stsaff has been reduced by some 25% during budget cutbacks. "The police department staffing," said Eastman, "has only been reduced by 18%."