Tired of furniture piled up on streets, the overflow of trash bins and illegally parked vehicles? Take heart. In Mammoth Lakes, a group of town workers survey the community for violations on a regular basis.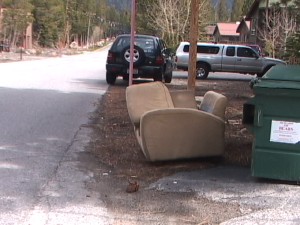 With a pattern of employee lay-offs, the town was not ready to hire a code compliance officer, but the new group handles the job. Mike Grossblatt and planner Steve Spiedel head up a group that also includes people from building and public works – Johnny Goetz, Alex Ramos and Ron Fansler. Friday, they reported a number of violations around town.
The group found furniture, mattresses, chairs and other items sitting on the street. For many in Mammoth, these are pet peeves. The inspection group also found minor trash spills, trash bins left open and illegal storage of a camper shell.
On top of that, several cases of illegal storage of construction and other trash. Town officials say that follow-up phone calls to each of the cases observed will also be part of the staff's outreach effort. Officials added that as long as citizens are willing to work with staff to resolve issues, there will be no heavy handed citations and fines.