35 children who call the inner cities of Los Angeles, Las Vegas and San Jose home found the excitement of the ski slopes last month. Mammoth Mountain Ski Area just let us know about the After-School All Stars who came to town.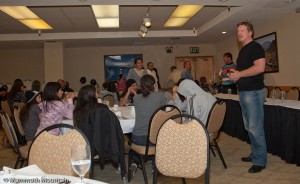 The kids were treated to lodging, ground transportation, rental equipment, group ski lessons, gondola rides and group meals courtesy of Mammoth Mountain.
After a full day of on-snow activities on Saturday, April 18, the children were transported to Eagle Lodge where Mammoth Mountain employees treated them to a special banquet. CEO Rusty Gregory had some fun with the kids. He talked to them and then introduced a special career panel of professionals in hospitality, food service, marketing, hotel management and other areas for career paths and jobs.
Many of the kids said it was their first time on the snow, they want to work on the mountain and thought it was "better than Disneyland and the best day of their lives."